Story of Tina Herrera
While most of her peers were fitting in the societal expectations of what an ideal woman should pursue in her career, or to fulfil a more traditional gender role, Tina Herrera was training as a mechanical engineer, a field that was highly dominated by men. Self-assured and passionate about calculus and physics, she landed a very lucrative career in a highly male dominated space- the National Aeronautical and Space Administration (NASA). Then, remarkably, when internet technology was just being introduced, she went on to help build the market for WI-FI. And, now –the middle-age-mother of two works with investors trading on the New York Stock Exchange. All of these progressive roles reflect the trajectory of her life choices and the vision she had for herself. She knew what she wanted to do, and she did it- leading a way for many other women.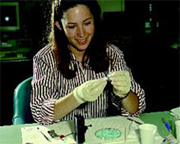 When asked what is the key thing she learnt while working as a mechanical engineer and at NASA she said, "It may seem overly simplified, but the workforce, especially technology fields were first designed around men. As a woman you recognize that your life is different and you must be your own advocate. It can be a little lonely."
While most women would be tempted to give up and retreat back to the patriarchal caves and safety nets of society's gendered expectations, the Northern California born woman chose to keep on, not just for the love of calculus and physics, but because she had a tribe of women encouraging and challenging her. While sisterhood is defined differently by different people, Tina drifts back to where she met her support system.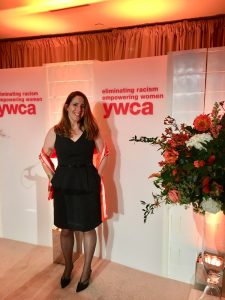 "Back in the 1980s, during the rigors of university study, I needed to take some time for balance and give back to the community. A few meters from the university gate I saw this beautiful building and I was interested to learn what goes on inside there. The first thing that caught my attention once inside was this huge carving with the words, our purpose is to eliminate racism, whenever it exists and by any means necessary." Living in a country that did not shy away from showing off the claws of racism, that statement was a motivating factor for Tina to sign up for membership at YWCA USA as a young college student.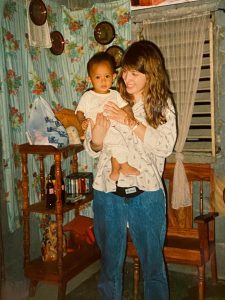 Within the YWCA movement there were different community based activities organized to alleviate and address pressing issues. Of the many things Tina did, she most vividly recalls a study tour to the Philippines by YWCA USA and World YWCA as life changing. It was her first time traveling outside of the United States, and a key milestone in her life and also as a daughter of a man who once worked in Philippines. She experienced the country as she had heard from her father and connected with the community of the Philippines at in depth – getting an understanding of the challenges concerning women and young women of a country she felt close to.
"I know we have people without resources in the United States, but what I saw in Philippines made me question a lot of things and I learnt there is massive inequality that exists in the world and some people benefit from it." The compassion and humanity she witnessed within the YWCA movement while in the Philippines affirmed Tina's decision to be a part of the network of global leaders. "That year, I found my home. And I have never left", she remarks about the YWCA.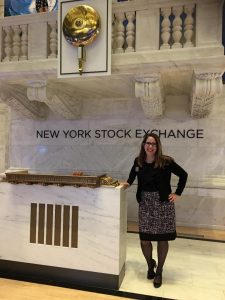 She is still breaking stereotypes today as an investment manager, a reminder of her learnings from the YWCA. "At YWCA you gain the courage to pursue your interests and learn to lead with purpose. You learn that women belong everywhere decisions are being made."
Once done with money matters, she heads to her daughter's school where she is a basketball coach. Once again, she gravitates to a space with limited female representation this time to serve as a role model for young girls.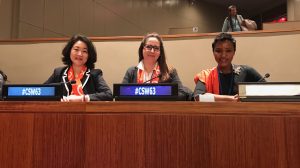 Tina Herrera is an embodiment of what a woman can achieve with the will power to push against structural and cultural barriers, with the support of and for the sake of women, young women and girls. Her leadership story is varied, but YWCA is a constant thread – from her international work, being on the National Student Council of YWCA USA, and her first board engagement at YWCA as a young woman. She shares these tales with buoyant energy and enthusiasm with one profound moment.
A leader of YWCA Uganda visited her local YWCA during her time at university. "When Uganda was experiencing political violence and tension, the head of state then wanted to shut down all the NGOs. Knowing the implications of the closure to the people, the National leader of YWCA went to the president's office and boldly said, "you can't close down my YWCA, because people will die!" That was a powerful moment in realising the true energy of YWCA. Such boldness doesn't come from the wind, the work we do is God's work and no better people than women to do the work. I truly believe we are doing work of God."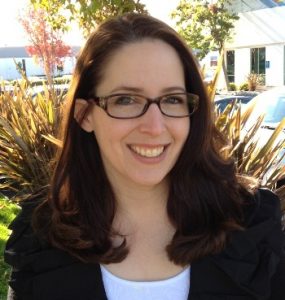 In her role as vice chair of YWCA USA Board of Directors, she is working closely to make change happen within the current political climate. Leaders like Tina remind us of how once a young woman joins YWCA, she might have many life transitions, but the YWCA never leaves her. For 160 years the YWCA has been a touchstone for leaders to do challenging work on the ground, in communities- impacting the lives of so many. We need your support to continue with this work.