Your favourite magazine is not getting delivered, the coffee shop you used to spend the most time at, is now a shelter for dogs and the guilty pleasures have now turned into full time meals!
Yes, we're in this together, fighting daily with our clustered emotions and feelings. Lying on the bed and staring at the walls for no reason, sleeping at unusual hours, binge watching and eating has become a routine, household chores are actually making us sick as no one really expected this version of cardio in their lives. But do we have an option? Is there a solution? An easy escape? A cave from where we can get out safe without getting affected from the virus and start enjoying our lives again? Well we know the answer to all these questions!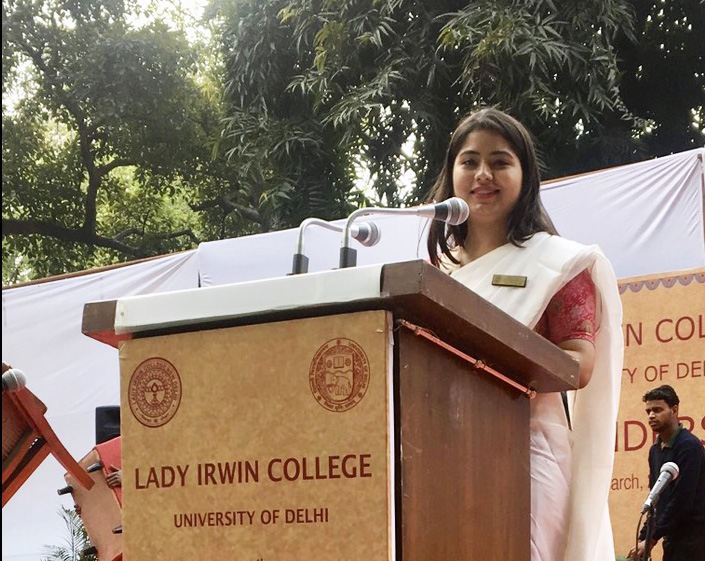 I'm Aadya Prashar, a 21-year-old girl working as Head of Content and Social Media manager in a Digital marketing Agency.
Currently we all are under one hut, surviving each day and trying to keep ourselves sane by not getting ahead of ourselves and focusing on the immediate present.
While this pandemic has become the big-time teacher for all of us, it is making us realise the importance of things and moments which never really mattered to us or were taken for granted all our lives!
We now appreciate more essential workers, we care about the street dogs a little more, and most importantly we know how it feels to be caged and apparently, how we have been Mother Nature's worst enemy so far.
I would like to share my few points of realisation during this lockdown-
I still don't like to indulge in unnecessary conversations and like to remain in my room all day long just like my other days of life.
I still help my mother in all the household chores like I used to do before. One big achievement is starting to cook good food! "Work from home" is pretty much doing okay.
Aaand, I'm not binge watching and over eating at all! Instead I workout for an hour daily. So, I guess so far I'm keeping myself sane from all the negative bees around.
Some other activities which are keeping my body cells happy are:
Listening to music. Thanks to friends sharing their amazing playlists!
Discovering new videos and people on the internet who are actually doing good on the gram by actually posting "content" that is worth reading and sharing.
If I talk about one of the major changes that has occurred, is that there is division of work in actual sense. The irony is that women and especially mothers are still working day and night and I see no quarantine "chill" in their routines. This reminds me of a recent book I was reading a few days back named "Overwhelmed" by Brigid Schulte. In this book, she wonderfully narrates how women are struggling to find and enjoy leisure in their lives. I encountered my favourite sentence in the very first chapter, where she says, "Men can read a newspaper sitting beside a pile of laundry. I can't".
Recently my dad asked how much time we require to refill the cooking gas, and immediately after asking this he said in amusement: "Wow! This is the first time I have ever asked this question". Me and mom gave a good laugh while setting lunch on the table.
In my what-NOT-to-do-list I highly recommend to NOT watch news channels all day long. Listening to nothing but so many negative words just in one sentence really disturbs one's mental peace. Read, read and read. It's better! Read news articles from authorised and good news channels, read good books, good captions, even while scrolling just stop and read. I find this THE best solution to boost up your knowledge. Believe me you feel fantastic and really satisfied in terms of your "time spent" after a good read.
Some accounts that you can follow on Instagram are- The Artidote, Arch Hades, The thought catalogue, Oprah Winfrey, Michelle Obama, The HuffPost, Bianca Sparacino, The Ellen show, Jay Shetty and the good quote.
News channels that are publishing nothing but the actual facts are CNN, BBC, Brut India, and NDTV news.
Without any denial we have to get ready to face a new reality of the world. Words like economy, crisis, environment, health do knock the doors of our mind but we are so busy battling with our personal life crisis, that we often deliberately ignore these new changes that we all are facing.
The Indian Prime Minister has said the truth in one of his video conferences, "World will now be, pre-corona, post-corona just like in the case of the world wars".
I hope my #QuarantineStory brings a smile on your face, but more than that it will be more special if it inspires you even to the bit of a small grain. Being inspirational can be magical during these times. I believe we, and by that I mean the women on this universe, have always been powerful. So much so that this pandemic has not been able to deviate us from what needs to be done!
Thanks to She Speaks for giving me this opportunity! Kudos to their work and efforts!