Stories of Five Pioneers and Leaders from the YWCA Movement
The COVID-19 pandemic unmasked the ugly reality facing young women and girls who were trapped in close quarters with their abusers, facing issues of employment and income generation and managing the multiple burdens around health and access to resources. It is during this pandemic that women, young women and girls within the World YWCA movement once again stepped into their power and purpose to offer first response within their communities, leveraged on technology to engage other young women leaders, government officials and policy makers in different geographical settings.
The World YWCA is committed to building such a powerful set of leaders by advocating and investing for women and young women led action on ground. The YWCA movement aims to champion passionate women, young women and girls' leaders who envision to create a positive social impact in their communities and beyond and daring to achieve their ambitions despite the barriers they may face. These are the pioneers and fighters who are on the forefront of global problems.
In the month of December 2020, World YWCA launched a campaign to share stories of five such powerful intergenerational leaders showcasing what historical and futuristic, progressive and faith-based movement looks like when leaders on ground do what they do best- advocate for a better world.
In the five-part series of the campaign were highlighted the stories of Lucy Masiye from Zambia, Satoko Yamaguchi from Japan, Vera Syrokvash from Belarus, Ashkhen Aslikyan from Armenia and Tina Herrera from USA. The campaign not only shared light on the lives of these powerful leaders but also inspired others to invest in women and young women leadership as a key to social change.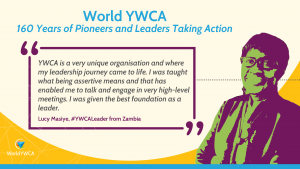 "A teenager's curiosity that borne a leader" is the story of Lucy Masiye who joined the YWCA movement in Zambia out of sheer curiosity and was nurtured in the family to be self-confident while others struggle with body changes. As a young woman working with child survivors of sexual abuse to get justice. The unending journeys to the police station and the corridors of courts affirmed her purpose within the women right's movement. During the interview Lucy shared what makes YWCA a unique organization –
"Organizations need to be keen and learn from the YWCA model of implementation, which encompasses breaking human rights into different segments and having a clear step by step pathway to do the work".
It is at YWCA that Lucy's leadership journey came to life and she was taught what being assertive means which enabled her to talk and engage in very high-level meetings. Over the years she has assumed different leadership roles and she currently serves as a board member of World YWCA, a SheDecides Champion, Chair for an organization in Zambia and President Nominee for Rotary International, Zambia.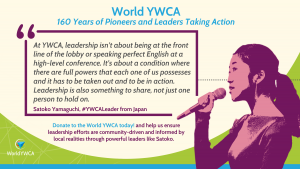 "Finding Purpose in the chaos of your own life" describes the story of Satoko Yamaguchi from Japan- who as a teenager was often bullied and all she wanted was a safe space where she could navigate the murky waters of teenage-hood and become resilient and confident, but instead the bullying shattered her self-esteem. While studying at the university and doing a major in Gender and Development studies she joined different women led movements and that is how she found and joined YWCA of Japan.
"In my work at the YWCA of Japan, I felt a sense of ownership and belonging. Although I have had a passion for social change my entire life, I had lacked the tools to make a real change before joining YWCA."
The World YWCA prides itself for being a leadership incubator that nurture the next generation of young women leaders hence Satoko's definition of leadership. "Leadership isn't about being at the front line of the lobby speaking perfect English at a high level conference, but its about a condition where there are full powers which each one of us posses and it has to be taken out and to be in action. Leadership is also something to share, not just one person to hold on." With more confidence and community of women and young women around her, Satoko is a youth leader, a passionate activist, YWCA torch bearer and member of UN Generation Equality Youth Task Force.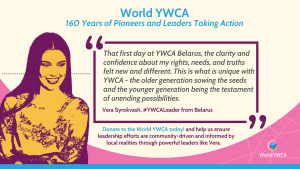 "The Solitary SRHR Activist Finds Her Home in YWCA" describes Vera Syrokvash's story-who as a child often did not understand why girls were treated differently. Her desire to argue and finding out the truth was not encouraged. There were many prejudices at school towards girls. It was until she joined the university and her lecturer noticed the great interest she had towards women empowerment and invited her to one of the YWCA activities in Belarus. Many young women and girls find their home at YWCA immediately after their first engagement and it was no different for Vera.
"That first day at YWCA Belarus, the clarity and confidence about my rights, needs and truths felt new and different. This is what is unique with YWCA; the older generation sowing the seeds and the younger generation being the testament of unending possibilities."
Inclining on the unending possibilities and the confidence to achieve better reproductive health care for women, Vera wants Sexual and Reproductive Health Rights to be the main focus of attention in Eastern Europe where bodily autonomy does not exist, access to contraception and sexuality education is extremely low and gender based violence is on the rise. Vera is a reflection of a new generation of young women and girls who are assertive and not afraid to speak out against inequalities in their communities and world. The solitary SRHR activist is also a mental health advocate.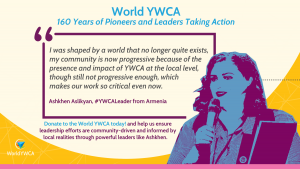 In "The Season of Affirmative Yes! Ashkhen Asliykan tells how her definition of feminism was sanctioned at the YWCA. Born in a small village in Armenia, she lost her dad at a young age and her mother brought her up single handedly hence being the first feminist in her life. Through the YWCA network in Armenia Ashkhen found a sense of belonging. "When my sister took me to a YWCA conference. I listened to the President, Aida, at that time speak. I thought to myself how fluent and confident she was to talk in front of all those people and all I knew is that I wanted to be just like her." At YWCA centers young women leaders are given the tools to be at the forefront of community change and with COVID-19 and the political tensions going on in Armenia, Ashkhen was at the frontline bringing change in her community.
"Through the help of YWCA organization and with my sister we managed to start a movement where women would meet and knit for children and soldiers who were at the front line."
A deliberate move that has expanded the network of YWCA in the small village and given the young women and girls the platform to express themselves and be part of the change they want to experience in their communities. Ashkhen has learnt to say YES to opportunities a vital lesson she learnt at World YWCA in 2017 where she was an intern, she also serves as a youth and peace advocate, and community voice who strives to achieve more.
Tina Herrera from USA is A Leader Beyond Calculus, Physics and NASA. As a young woman Tina, was training to be a mechanical engineer, a field that was highly dominated by males during those years. Self-assured and passionate, she landed a job at NASA – National Aeronautical and Space Administration. It is very unlikely for any young woman to forget their first day at YWCA and for Tina she remembers finding her space by joining YWCA, "I needed to take some time for balance and give back to the community. A few meters from the university gate I saw this beautiful building and I was interested to learn what goes on inside there. The first thing that caught my attention once inside was this huge carving with the words – our purpose is to eliminate racism, whenever it exists and by all means necessary." Inspired to be part of a movement that transforms the most subtle perception in the community, Tina was part of the team that travelled to the Philippines for community service, an experience that completely changed her mindset.
" I know we have people without resources in the United States, but what I saw in Philippines made me question a lot of things and I learnt there is massive inequality that exists in the world and some people benefit from it. That year, I found my home. And I have never left."
Tina's leadership is varied, but YWCA is a constant thread from her international work, being on the National Student Council of YWCA USA and her first Board engagement at YWCA as a young woman to now the National Board of YWCA USA.
These five stories highlight how the YWCA brings together women and young women from different cultures, communities, with different faith and layers of life experiences together- binding them in solidarity to do better for their communities. If you believe in young women and women leadership as the driving force to bringing change in communities, donate now to World YWCA.
Interested in connecting with us? Write to us at worldoffice@worldywca.org.