The sixth Women Deliver Conference (WD2023) took place from 18-20th July 2023 in Kigali, Rwanda. The objective was to enable inclusive and co-created spaces that foster solidarity for sustainable solutions on gender equality. As I reached the Kigali Convention Centre on 18th July 2023, I was full of energy and enthusiasm to begin my learning experience at the Global Conference. I met the World YWCA, YWCA Rwanda and YW4A teams; and Ms. Rajina (RiseUp! YWL from Nepal). It started with some introductions followed by candid conversations about their experiences at the pre-conferences and the Opening Ceremony.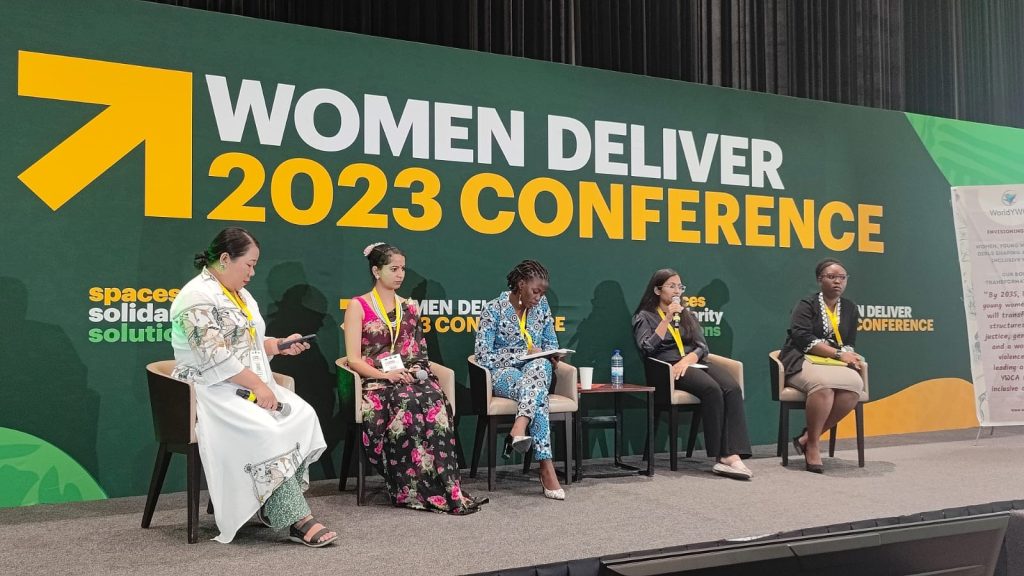 Panel Discussion on Breaking barriers by unraveling co-led processes – Young women leaders driving feminist spaces: This panel discussion was organized and moderated by World YWCA where I, along with three other young women leaders, emphasized on the importance of building safe spaces for young women across the world. It revolved around discussions on power and privilege and how youth leadership can be empowered through intergenerational dialogues with instances from the communities. The audiences striked a conversation on our approach towards making RiseUp! an inclusive programme where I could share about YWCA of India's collaboration with DeafWomenToo, an online initiative to empower deaf community. As part of this collaboration, we aim to reach out to 100 deaf young women and support their leadership journey through interactive sessions on building safe spaces, SRHR, SGBV, leadership values, mental well-being, advocacy and so on. I also talked about RiseUp! offline training with deaf young women that was planned for the month of July in New Delhi, India. Being at the panel was a transformative experience where I could learn from other young women leaders and their leadership journey as well.
The second day at the conference, i.e., 19th July 2023 began as the team attended a side event together on the 'Role of Philanthropy in Indigenous Women's Movement'. The indigenous women on the panel shared their experiences stating the importance of investing in solving the problems of indigenous groups who also have the right to live in dignified spaces. This was an intergenerational panel that highlighted the importance of co-creation and empathy for indigenous communities. I was inspired by the powerful words shared during the panel such as :
"Our language, our voice, our music, are all resources we don't recognise. We don't realize the spectrum of resources that we have. How we use our knowledge, our space and our voice, is really important."
"Markets should be made accessible for indigenous crafts by indigenous people. Taking our resources from local level to global level helps to build capacities on local knowledge."
"When we talk about philanthropy, we need to reach out to the women in the remotest locations, because the government and other stakeholders are not reaching out to those indigenous women."
The session concluded with a thought that we should not just talk about accessibility in these spaces, but also direct our focus on involving indigenous people in spaces such as Women Deliver to give them the opportunity to participate and represent themselves.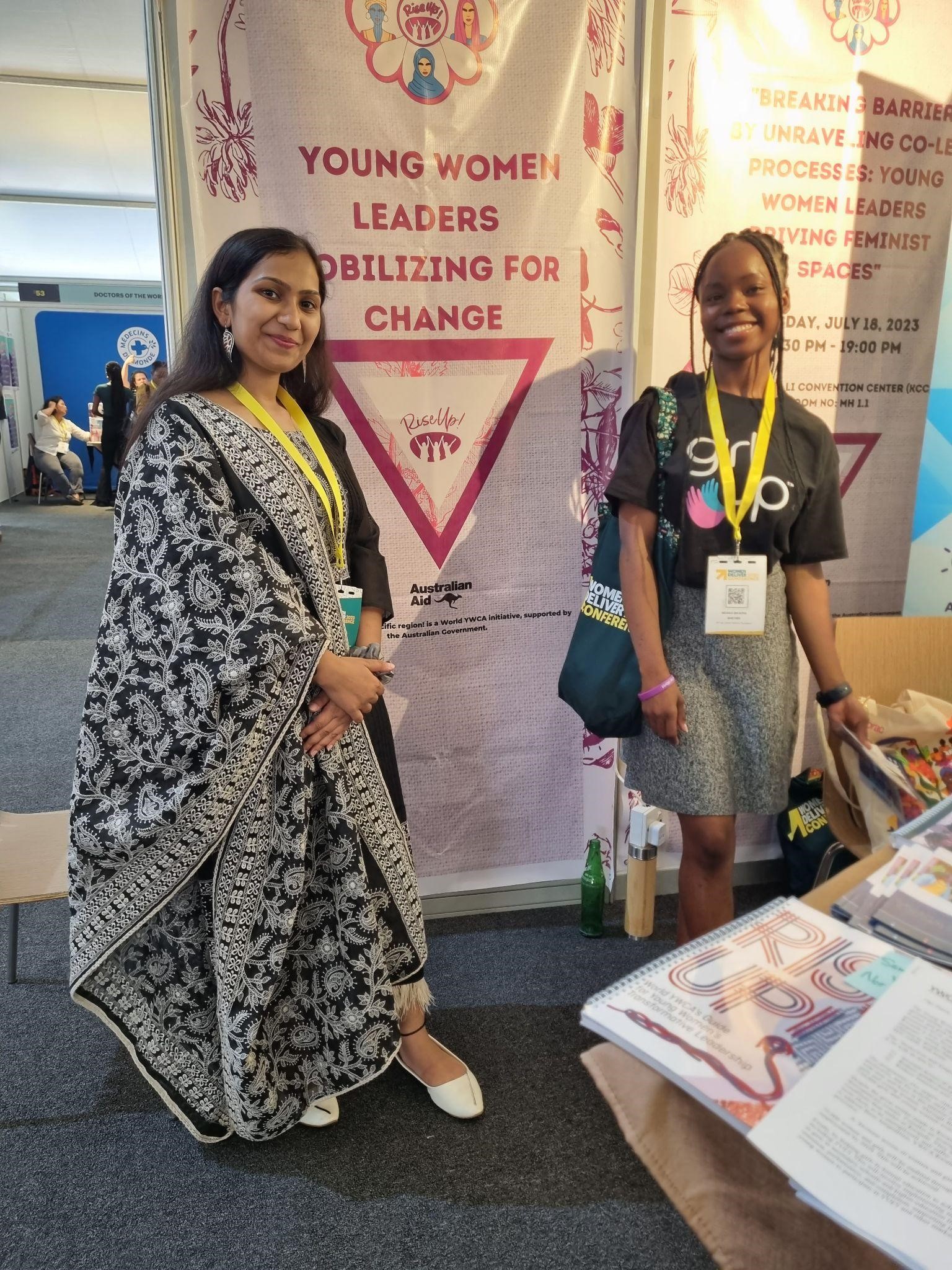 At the Exhibition booth setup by World YWCA, I could interact with representatives from cross-globe organizations. As a team, we introduced the visitors to the range of resources on display such as the RiseUp! Manual, the Safe Space Power Space guide, the Storytelling guide and discussed the possibilities for future collaborations. Further, I eagerly explored the booths set up by other organizations, seeking insights into their vision and initiatives. Engaging with their delegates enabled me to comprehend their impact, fostering valuable learning and potential collaborations.
Next day, we attended a plenary session on 'Growing Feminist Movements: Overcoming Challenges and Fostering Connections' with diverse speakers from across sectors sharing their knowledge and experiences on sustainable efforts for advancing feminist movement structures. During the panel discussion, a particular sentence caught my attention and has stayed with me ever since, "If you want to go far, go together!"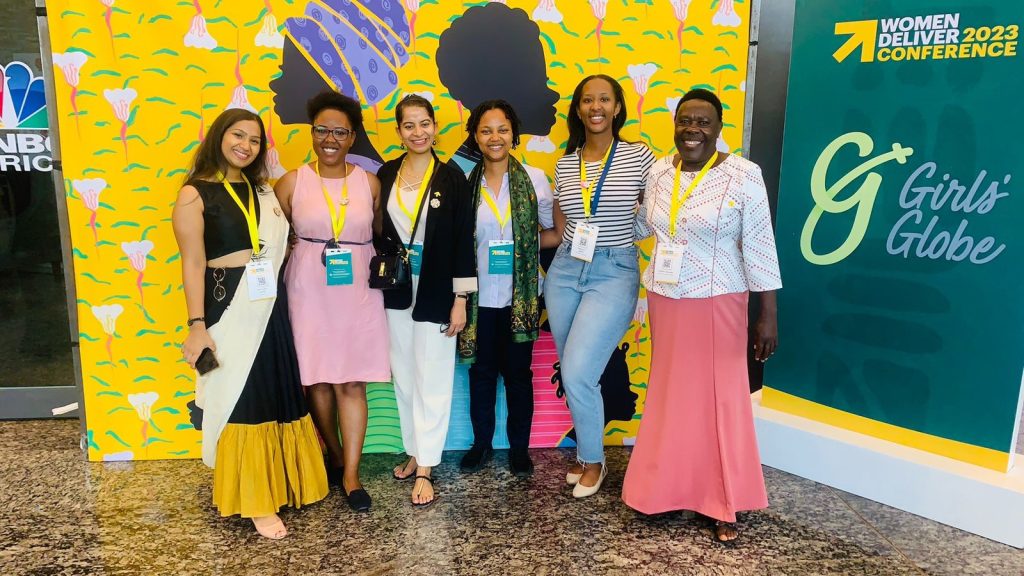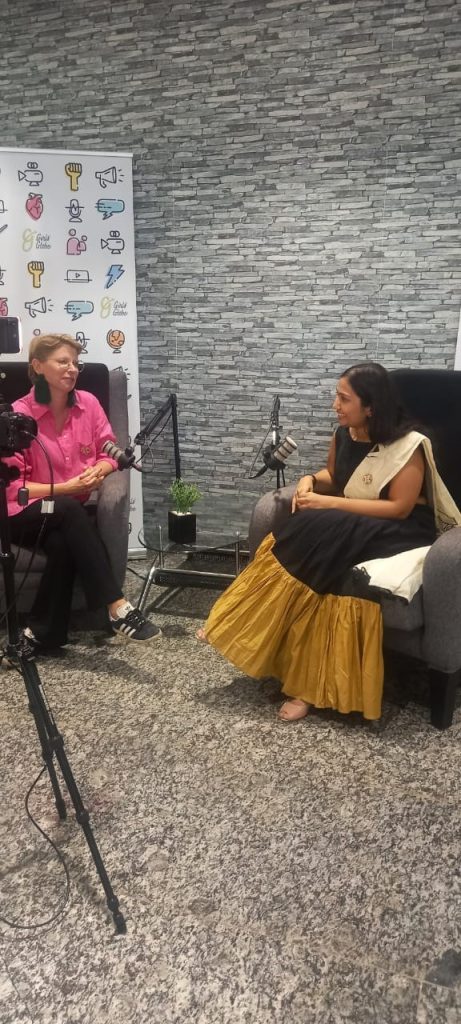 Interview with GirlsGlobe & Global Health Equity Hub, Western University: While interviewing with GirlsGlobe, the designated media partner for Women Deliver 2023, I shared my experience as a RiseUp! Young Woman Lead from YWCA India and my personal trajectory in the socio-development sector. As part of this one-to-one interaction, I articulated my perspective on building 'Solidarity spaces' and expressed my individual commitment to building safe spaces within intergenerational groups. In the byte recorded for the Western University, I expressed my viewpoint on Climate Change and the environmental concerns prevalent in India. Talking about solutions, emphasis was placed on enabling collective action and promoting change as an individual, as a community and as a country towards Climate Action .
Discovering a multitude of distinctive spaces: I explored the Solidarity space and engaged in interactive discussions which were led through creative visuals. It was focused on individual perspectives and the importance of Storytelling approach in disseminating information to the young minds. Through this creative exercise, we could self-introspect on our own stories and values which unfolded deeper conversations. Next, at the Youth zone, the most vibrant zone, I had candid conversations with a few young women who were involved in fun activities such as painting, dancing and scribbling, using these creative means to express themselves and advocate for the issues that matter to them. The Arts & Film Festival zone expanded my creative spirit as I participated in a Treasure Hunt and a pinwheel-making exercise. This section of the conference served as a hub for learning, creativity, and cultural exploration.
Finally, at the lunch hosted by the YWCA Rwanda team, we had meaningful discussions about their initiatives for women's support, especially programs involving young women. Their warm hospitality was commendable and I deeply appreciate their support throughout. As the conference concluded, I was filled with gratitude as it turned out to be an incredible platform to mobilize change for Advocacy and Leadership.
Overall Observations and Reflections
Being a RiseUp! Young Women Lead representative from the YWCA India, it was truly transformative to participate in a global conference. The diverse platforms at the Women Deliver not only allowed me to communicate about the grassroot efforts of RiseUp! Programme but also encouraged invaluable networking opportunities. It was a platform where I explored and established meaningful connections with empowering young women from various YWCAs and other organizations as well. The cross-sharing of diverse experiences and mutual learning offered a chance to learn, unlearn and relearn from the fellow attendees.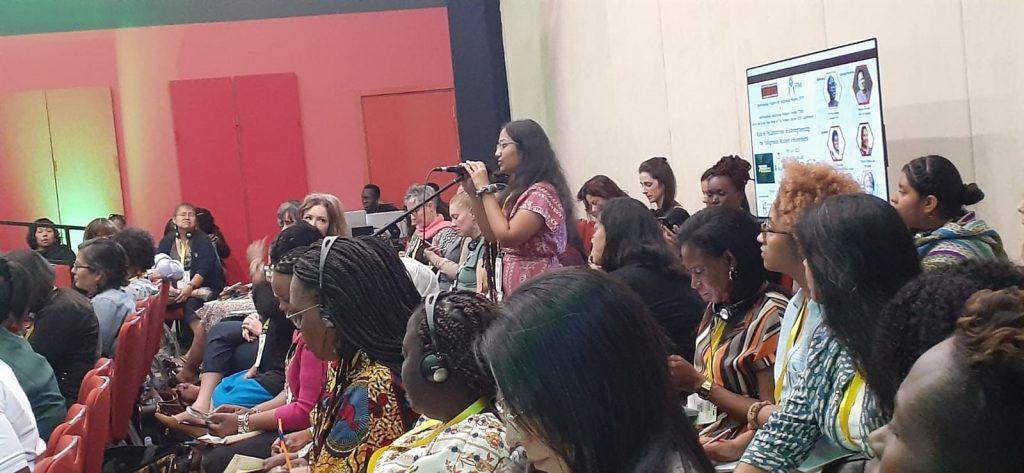 Attending some very insightful plenaries and side events enhanced my knowledge and broadened my perspective to different approaches. However, some spaces were not open for insights from the audience, and it became difficult to be involved in a cross-learning process. The conference was overwhelming with a multitude of spaces to participate in and with overlapping sessions, I had to prioritize the sessions I was interested in. Engaging and actively participating in the diverse spaces enriched my understanding of co-creation and co-development, providing fresh inspiration for RiseUp! Programme.
The World YWCA and YWCA of India team provided constant guidance and support throughout the conference. It feels great to be a part of a dedicated team that truly values 'building safe spaces'. As I reflect on the experiences and knowledge gained during the conference, I am also excited to connect back with like-minded individuals and implement my learnings in RiseUp! Programme as implemented by YWCA of India.
Background of YWCA of India :
YWCA of India is a leading women's rights organization striving to create a better future for women, young women and girls through empowerment and advocacy while also working towards building gender equality. The organization has its headquarters in New Delhi and has its 85 local associations across the country. It strives to eliminate inequality and injustice in India by alliance with its associations and networking partners with timely intervention in programmes and projects that specifically address the needs of marginalized communities regardless of age, class, caste, creed, religion. It aims at working for the marginalized people, especially women and young children, so that they are able to realize their rights, influence decision making processes and transform power structures.
Instagram handle of YWCA of India : @ywcaindia
Instagram handle of RiseUp! India : @riseup_india