Highlights of World YWCA at CSW65
The Commission on the Status of Women (CSW) is the largest global gathering of gender justice activists worldwide. This year the event was held virtually, from March 15-26, with two virtual programmes operating simultaneously at the CSW and NGO CSW platforms. NGO CSW hosted over 650 events online with NGOs and organizations across the world hosting these sessions.
World YWCA was present with more than 50 delegates from around the world, with 47% of young women delegates participating in the global event and actively engaging in the sessions and on social media to have their voices heard. We were joined by other YWCA leaders who represented YWCAs with an ECOSOC status. Together more than 120 YWCA delegates attended the event this time. These women and young women showcased the power of the movement by actively engaging across all sessions.
This year CSW theme was "Women's full and effective participation and decision-making in public life, as well as the elimination of violence, for achieving gender equality and empowerment of all women and girls". For 160 years, YWCA has been an incubator for building women and young women leaders, leaders who have taken action in communities to make human rights a reality. As a movement invested in building leaders and influencing policy action, the theme, especially during the pandemic times, spoke personally to each of us.  
World YWCA Greet and Meet:
On the day of the official start of the CSW65, the World YWCA delegation was invited to join the meet and greet session as an opportunity to walk through the programme and plan for participation, sharing logistical information on how to attend CSW online, and for the delegates to share any questions or information they wanted to share.
World YWCA delegation could also connect through the WhatsApp group to share links of events, information, questions and connect with leaders from the movement worldwide. The group was very active and gave many young women the opportunity to network and connect to the movement.
CSW statement:
World YWCA was selected to read a statement for CSW general discussion. #YWCALeader  Vera Syrakvash from Belarus read a statement on behalf of World YWCA that reflected on the impact of the pandemic of COVID-19 on women and young women in conflict nations, especially when it relates to Gender-based Violence, reinforcing a need for women participation in decision making. In the statement, World YWCA made a call for more action to effectively include women and young women, in all their diversity, in decision-making and public life to achieve gender equality. The recorded statement was played at the conclusion session
YWCA Events at CSW65 on NGO-CSW Virtual Platform: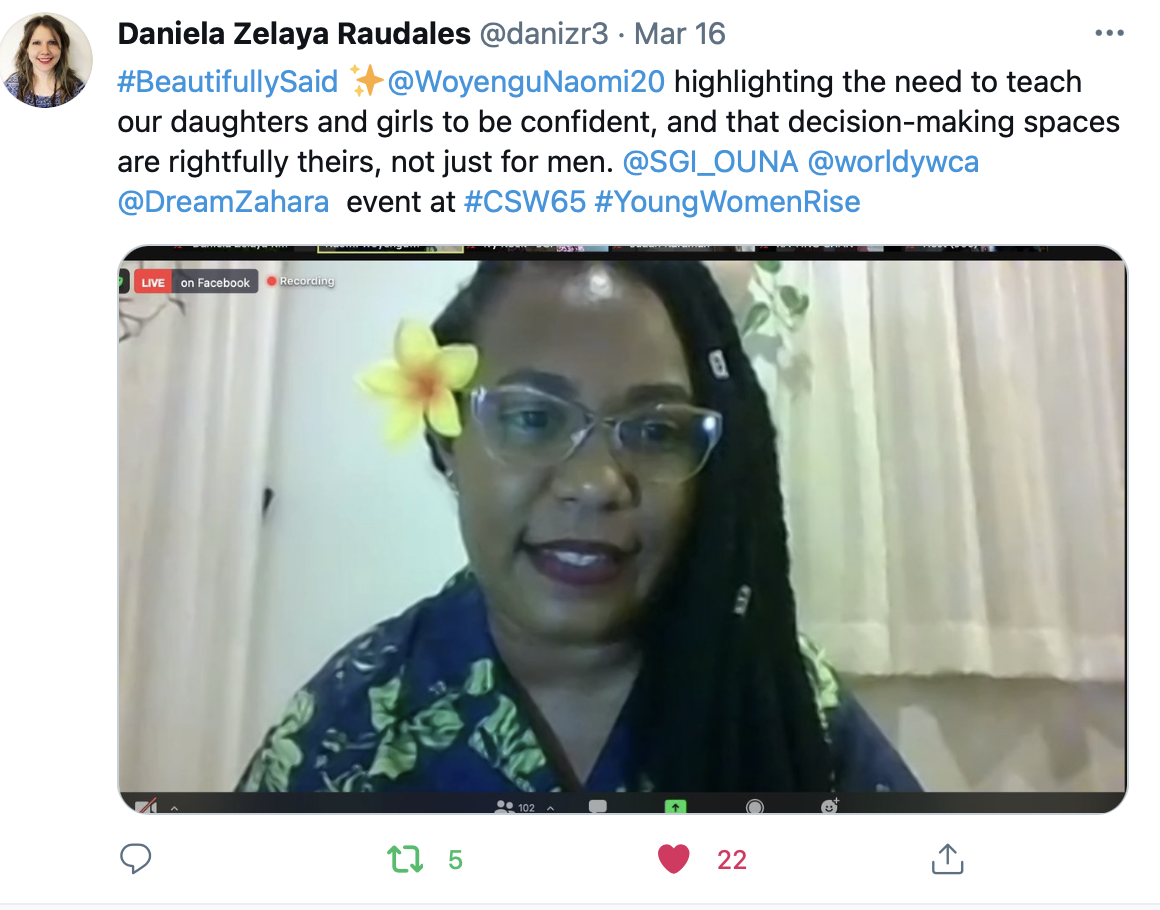 #YWCALeader Naomi Woyengu was invited was invited to be a panelist at a parallel event on The Power of Young Women to Lead: "Young Women's Stories—Fostering Leadership. Naomi shared her unique story and journey of leadership reflecting upon impact of YWCA in her life. The event hosted by SGI international was supported by World YWCA.
Post the launching of the inclusion pledge at international women's day, World YWCA hosted a parallel session titled Diversity as a Driver: LGBTQI Inclusion in Feminist and Social Movements in partnership with YWCA Australia an attempt to reflect on the power of inclusion and diversity in feminist and social movements. The event hosted five inspirational speakers from the LGBTIQ community from within YWCA and broader feminist movement around the world. You can watch the panel here.
YWCA Palestine led a side event titled Economic Empowerment and Response to COVID19.  Learn more on the event.
A parallel session on Racialized Women in Canada: A Conversation about Gender-based Violence and Inequality was co-hosted with YWCA Canada.
YWCA Australia led two individual parallel sessions on Cyber Feminism and Advocacy: COVID and beyond; and Mobilising in a Pandemic: Young Activists Perspectives.
The YWCA events were closed by an inspiring session by YWCA of Japan on Young Women and Beijing+25 Initiatives: Experiences in Japan.
CSW Side Event with the Government of Australia: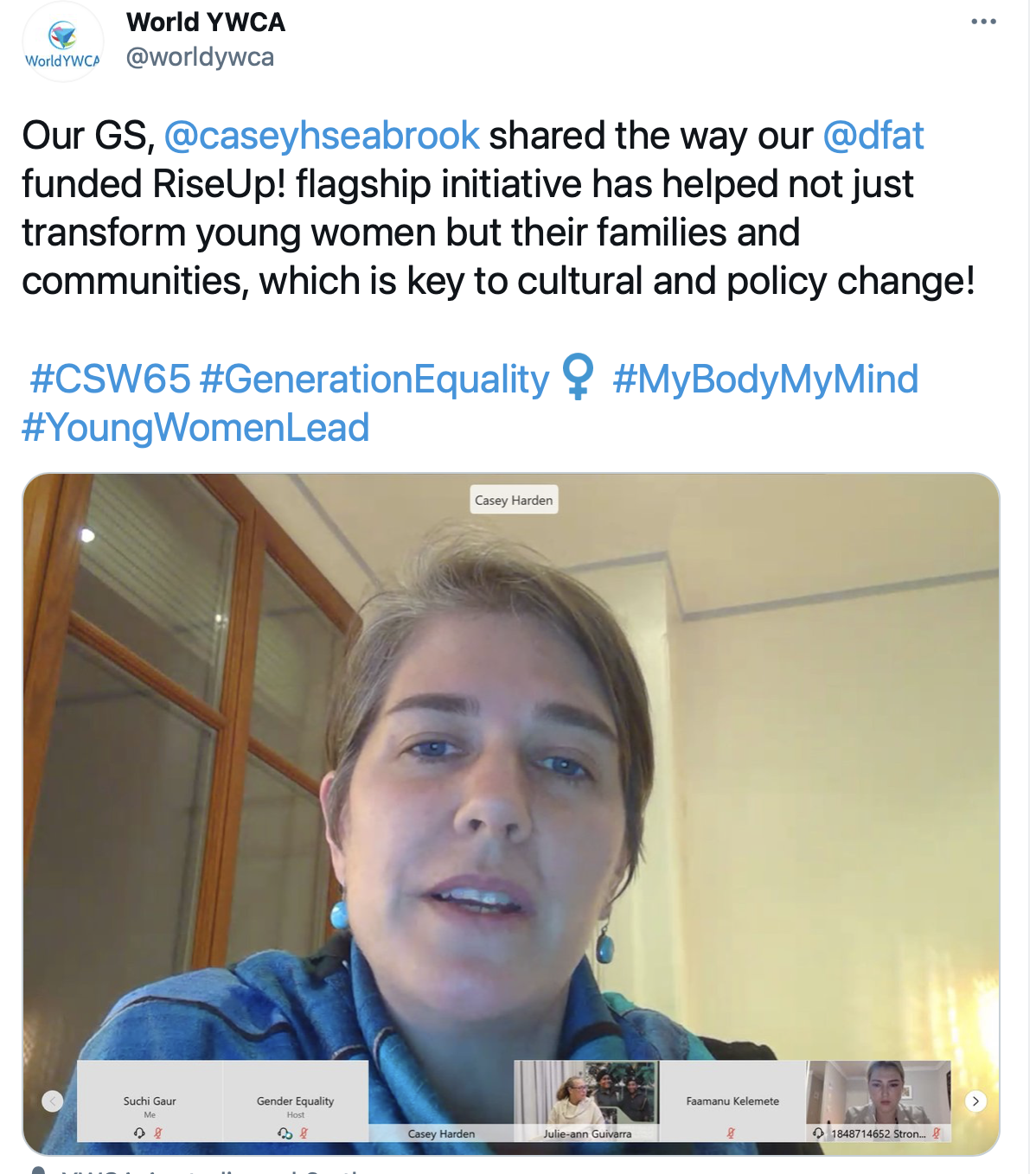 Hosted by the Department of  Foreign Affairs and Trade Australia Government (DFAT), an event focusing on listening to stories of young leaders in the Pacific, Building Up Women was held in partnership with World YWCA. Casey Harden, General Secretary of World YWCA shared opening remarks along with the Ambassador of Gender Equality, Julia-Ann Guivarra. Government of Australia has been a long standing partner of World YWCA and the YWCA movement and the event reinforced this impactful collaboration focusing on building young women's leadership. #YWCALeader Fa'amanu joined the event from Samoa, sharing her story and impact of YWCA Samoa on her life.
Social Media Highlights: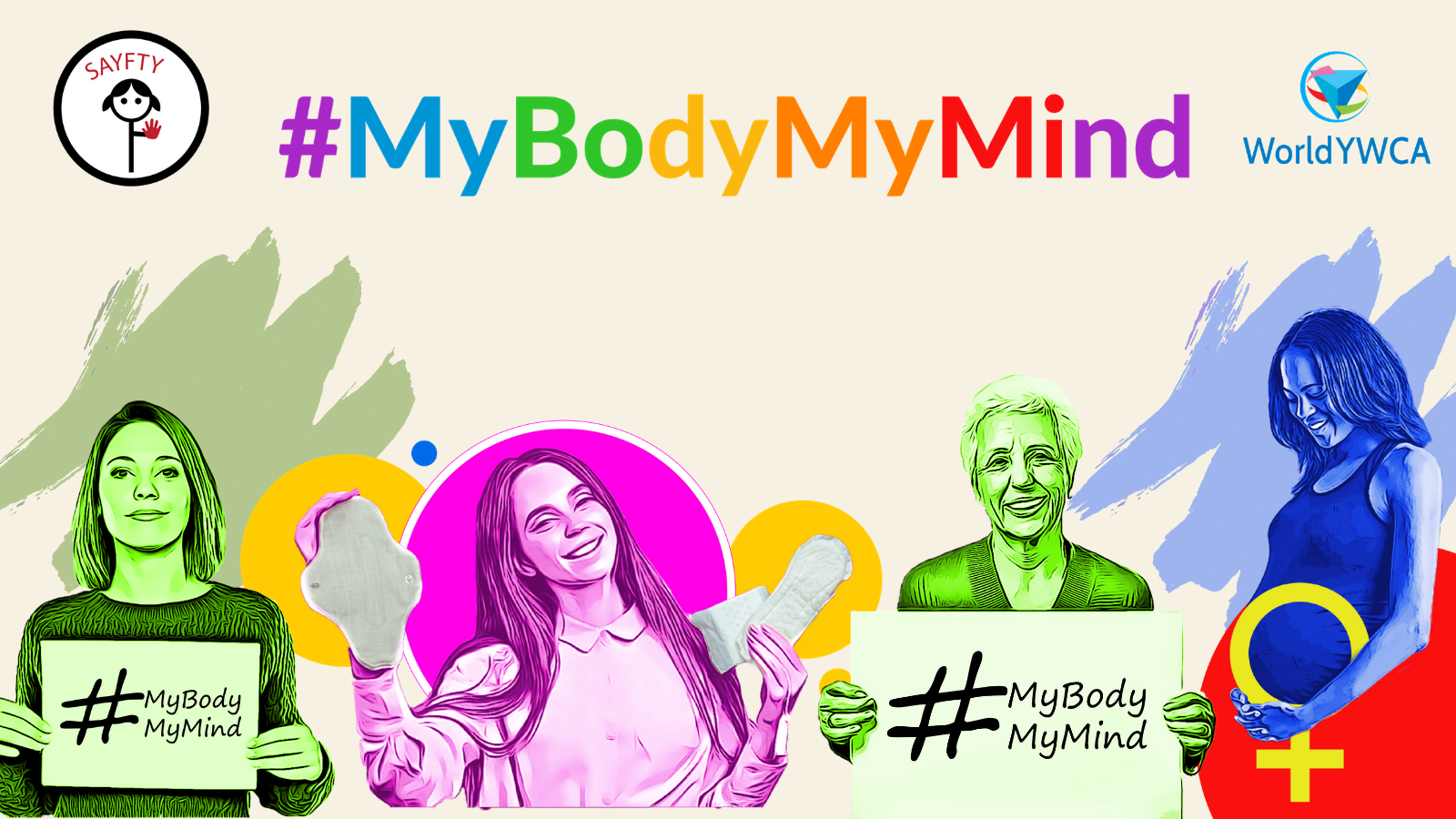 During the two weeks of CSW65, World YWCA partnered with Sayfty to host regional and global campaign weeks aimed to amplify young women's voices and call to action on Sexual Reproductive Rights and Mental Health under the #MyBodyMyMind. During the first week, the campaign was led regionally by #YWCALeaders in Asia, Africa and Eastern Europe highlighting the issues young women face in their region, sharing stories and evidence from ground and calling for action on critical issues that matter to them.
Duirng the second week, Sayfty and World YWCA led the glbal campaign bringing the voices of young women together, engaging a wider audience and leaders in the space to advocate for young women leadership on SRHR and mental health. For more, follow the hashtag #MyBodyMyMind across social media channels, or go to @worldywca.
Other highlights:
#YWCALeader Nirmala Gurung participated as a speaker at the Helvi Sipla Seminar on the theme MY BODY IS MINE – Trafficking in Human Beings – How to Protect Women and Girls? on International Women's Day. The event was jointly organized by the Finnish Federation of Graduate Women, the National Council of Women of Finland, the Coalition of Finnish Women's Associations – NYTKIS, Finland National Committee for UN Women and the Young Women's Christian Association of Finland YWCA.
#YWCALeader Jill Anami from Kenya participated in the YMCA's orientation for delegation to share tips, insights and suggestions for attending CSW.
During the second week of CSW65, #YWCALeader and CSW65 delegation member Namrata Sharma from Delhi, India represented World YWCA as a panelist at the UN SDG Global Festival of Action event along with the fellow Big 6 representatives at a workshop on young people and the impact of COVID-19 pandemic in a workshop hosted by World Organisation of the Scout Movement.
During CSW65's, UN Women held ecumenical events everyday with morning prayers online. #YWCALeader Maureen Magak from Kenya joined to read during the Thursday morning prayer. You can watch the sessions by checking the agenda or their channel.
The event ended with a strong commitment to carry the messaging, learnings, experiences ahead to each of the regions and communities, reinforcing the commitment to YWCA's strategic framework 2020-23 and the unique bold and transformative Goal 2035, reinforcing the need to invest in building and strengthening young women and girls leadership for a sustainable movement and a sustainable world.
For more information, contact communications@worldywca.org.