After some rather intense plate tectonic activity, The International Conference on Family Planning (ICFP) finally brought the world to Bali's doors on 25 to 28 January 2016.
Gabriela Milla (Young Women's Christian Association of Honduras)
Ramya Jawahar ( International Youth Alliance on Family Planning)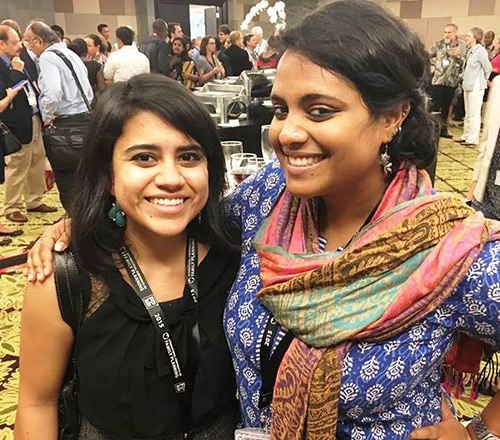 This conference united the global community to share best practices, successes and reflections of new strategies, taking into account the newly adopted Sustainable Development Goals as well as the FP2020 commitment.  The experience opened channels for critical examination of how far we have come in terms of full access and full choice of family planning services.
As young women leaders, we, Ramya Jawahar represented the International Youth Alliance For Family Planning (IYAFP) and the Young Women's Christian Association of India (YWCA) and Gabriela Milla represented the Young Women's Christian Association of Honduras. Both these organisations emphasise that the issue at hand is the critical leverage to continue the discourse on Sexual and Reproductive Health and Rights (SRHR) in communities, that otherwise are marginalised.
A number of speakers from a variety of backgrounds were able to provide crucial data, demonstrating that a deficiency in services including availability of choices in contraceptives, information and appropriate guidance from health care workers was a huge impediment for young people, most specifically young women and girls. I, Ramya, was personally interested in understanding how local policy and political will, consciously or otherwise contributed to this challenge.
'Young women and girls' have found themselves included in the language of advocacy but the adoptions of these frameworks are not just lopsided, it is very often completely absent.  There is very little reflection by states while forming policy. For example, the privatisation of public health, which has been evident in the language of India's new draft heath policy, takes access to SRHR several steps back. If reproductive health rights are to be part of the fundamental human rights discourse, governments must be facilitators and invest resources in health care. Resistance to the 2014 Amendment Bill of the Medical Termination of Pregnancy Act, 1971 is another example of how the debate does not place the agency of women front and center.
India has apparently followed up on its FP2020 commitment by attempting to diminish the reliance of sterilisation as a predominant method of contraception and provide diversity in choice of viable contraceptives, including free injectable contraceptives. This is an extraordinarily toothless commitment given that in 2013-2014, the national health budget was slashed by 20%!
As an example also, in Honduras, on my behalf, Gabriela, the maternal and children's health programme, (including family planning) receives broad support from public health. I worked in a Maternal and Children's clinic as a physician on my last year of medical school and treated 4,000 women on their reproductive age concerning mainly pregnancy and family planning. Fortunately, the clinic always was supplied with family planning methods for my patients, including the intrauterine device as an effective long acting reversible contraception (LARC). Despite this effort made, cultural beliefs and poor access to medical care in remote rural areas force young girls to have early pregnancies and to summit themselves to maternal and neonatal complications, including maternal mortality which is currently 100 per 100,000 live births. This environment confirms the vital role of education on SRHR of young women and girls in the adoption of these policies.
The conference also reviewed critical data on the urban poor globally being the most neglected, with 66% of the world's total population living in cities1. The more sinister truth is that governments make broad assumptions that urban spaces are better facilitated for access as well as distribution of health care. Informal urban settlements have little or no choice to basic amenities like water, waste management, infrastructure or permanent public health care facilities. The YWCA of Bangalore has worked with marginalised communities for 50 years. Over the decades of engagement, the association has been invested in education and health within slums, particularly advocating for amenities for women and children. The experience allows us to observe that, coupled with the lack of investment in public health; cities are growing territories with populations well under the poverty line. These communities will remain neglected if the language of policy and political will excludes their welfare and their socioeconomic situation.
Our experience on the International Conference on Family Planning left us with valuable information, experiences and lessons from SRHR leaders from all over the world, especially from youth advocates. Despite being from different cultural contexts we were able to feel identified with their issues and follow their influential examples for our countries. As the theme of the conference stated, it is only following  global commitments and local actions that we together can achieve a better life quality for our future generations.
---
1. UN Population Division Report.
2. UNICEF Statistics of Honduras