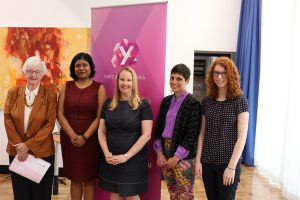 YWCA Canberra is one of the longest-standing community organisations servicing the city. Bound in the history of Canberra, the YWCA has been shaping itself in response to changing local and societal contexts. They believe in investing in young women leadership and as a part of the YWCA movement, are an active advocate for making the Goal 2035 happen. We interviewed them for our first Donor Spotlight of 2021, where we discussed the impact of COVID-19, plans for 2021 and details on their leadership initiatives.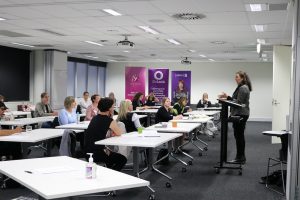 Can you tell us a little bit about the work of YWCA Canberra, how that has been impacted by COVID-19? What are your plans for 2021?
YWCA Canberra is one of the longest-standing businesses servicing the city and have a strong reputation in delivering quality services for women, children and families. We provide essential services for women, girls and families in the ACT. Our work covers children's services, community development, homelessness, domestic violence support services, and affordable housing, youth services, personal and professional training, women's leadership and advocacy.
COVID-19 meant that our event schedule for 2020 was deferred or cancelled entirely. Despite this, however, our work in providing community and children's services continued with demand for our housing support services and food relief programs increasing, in some cases by up to 170 per cent. Our fantastic children's services team continued to work hard to ensure that our children's services continued operating within COVID-safe guidelines. It was difficult period and meant that some staff were relocated for a short period of time to cover services but, as a team, we got through it together.
We recently engaged additional gender specialists to expand ourdomestic violence support service, particularly in response to the increased rates of domestic violence in our region during the COVID-19 pandemic.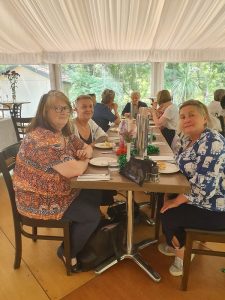 YWCA Canberra has ambitious plans to continue providing housing services to older women in Canberra while also lifting the supply of affordable housing in the city. Our YHomes project, which we anticipate will be ready to commence building in 2021, will provide ten quality homes for older women and women experiencing family violence, who are homeless or in housing crisis in Canberra. This important project will deliver an enormous social benefit and tangibly change the lives of women experiencing housing crisis in the city.
How is YWCA Canberra different from YWCA Australia in terms of national and local descriptions of YWCAs in Australia?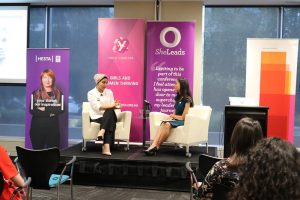 YWCA Canberra decided not to merge as part of the YWCA Australia in 2017. We remain affiliated with YWCA Australia and remain connected to the World YWCA movement through our affiliation and participation at World Council and Commission on the Status of Women (CSW) through the YWCA Australia delegation.
We have a long and proud history of responding to the needs of local women, such as providing high-quality childhood education and care to help working mothers, and our Next Door housing program for older women, in response to older women being the fastest growing cohort of homeless people in our region.
Share with us YWCA Canberra's approach towards funding and donations in the current context of the world.
At YWCA Canberra we are grateful for the support we receive from the community. As a local organisation with a strong footprint in the community, our supporters see first-hand how their contributions make a difference to the lives of others. Our fundraising efforts are primarily focussed on initiatives that address community need with a particular emphasis on supporting clients in our housing services.
We have been overwhelmed by the support we have received from members of the community during our Christmas appeal and in response to COVID-19. We have also been a proud supporter of the World YWCA movement through our contributions during World Council.
What does the team of YWCA Canberra look like?
Share with us a bit more about the leadership work of YWCA Canberra.
Our She Leads program is our flagship leadership pathway for women including female-identifying and non-binary persons. Our upcoming She Leads High event will work with students as young as 14 to help them on their leadership journey and to equip them with the confidence and skills to overcome challenges and further their potential. Our She-Leads Conference and In-Conversation events feature women across a range of professional industries.
As a Registered Training Organisation, our She Leads program also includes the opportunity for women to undertake formal education in leadership and management, setting them on a career pathway with training that is tailored for women.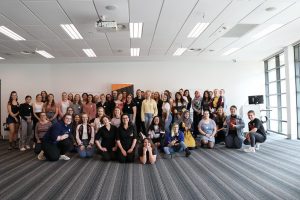 In the 2019-20 financial year, even with some events cancelled due to COVID-19, our She Leads program engaged 800 women in professional development activities and events.
Our Youth Engagement team also runs a program called Y-Aspire which works with girls aged 11 to 13 to help them build a strong connection to schooling through an integrated learning program. Through a series of two-hour workshops, combining knowledge-based and interactive activities, the participants are provided with the opportunity to identify and build on existing skills, explore topics such as identity, resilience, body confidence, self-care, respectful relationships, and leadership order to achieve their potential at school and beyond.
YWCA Canberra's CEO Frances Crimmins shares how we should or shouldn't adapt our ways in 2021
As a supporter of the YWCA movement, YWCA Canberra has donated to the World YWCA's work a number of times, which we are thankful for. What is it about the movement, mission or purpose that drives these donations?
We are driven by our shared mission to work toward a world where reconciliation, justice, peace, health, human dignity, freedom and care for the environment are promoted and sustained through women's leadership as well as local and global partnerships. We are strong advocates for the participation of young women and believe that their voices and the voices of women from diverse backgrounds are critical to building a future that is representative, safe, and inclusive and the World YWCA movement and the power of our collectivism is key to achieving that.
We are also conscious of the impact of climate change particularly on our Pacific Island neighbours and we were thrilled to contribute to the participation of our sisters from the Pacific to attend World Council in 2019. Women play a fundamental role in implementing local community solutions to global problems, it's important that they have a seat at the table to share what they've learnt and be part of the global solution.
Follow YWCA Canberra on social media:
Twitter: @YWCACanberra
Facebook : @YWCACanberra
Instagram: @YWCACanberra
Linkedin: @YWCACanberra
Visit YWCA Canberra's website.
If you believe in World YWCA's mission of building pioneers, leaders and fighters through the leadership work all around the world, do consider donating to us here.
---