Read the original article in Spanish.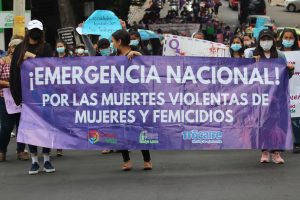 Long before the COVID-19 pandemic, girls and women in Honduras were confronted with multiple systems of oppression (sexism, classism, racism and other forms of social injustice). The coronavirus (COVID-19) exacerbates these prevailing inequalities, as measures to contain the virus focus on mobility restrictions, neighborhood closures, and suspension of constitutional guarantees. For many, the "stay-at-home" policies did not represent the safest option; on the contrary, they increased the risk of domestic violence. According to the National Emergency System 911, reports of violence against girls and women in Honduras increased 16% compared to previous years, with more than 40 thousand cases of aggression in 2020, (Sistema Nacional de Emergencias, 911). This means that on average one girl/woman was assaulted every hour during the pandemic. Additionally, according to reports from feminist organizations, more than 300 femicides were carried out in the same time frame, of which 98.8% remain unpunished (Movimiento de Mujeres por la paz Visitación Padilla, 2020).
Faced with an alarming situation of violence against women and girls, complemented by the absence of social security, feminist movements in Honduras continued protecting our rights before, during and after the pandemic. In particular, the voice of Ana Lisseth Cruz, stands out. She is the founder and director of Asociación Calidad de Vida, a non-profit organization that works for women and girls to live free of violence. Twenty-five years ago, Cruz founded the first shelter for women and girl survivors of gender-based violence.  She currently leads the three and only shelters in the Central District, transforming the lives of women survivors of human trafficking, domestic/intrafamily and sexual violence, and women displaced by violence.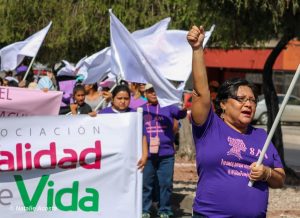 "Between the three shelters, we have a capacity to serve only twenty-five women and their children," Cruz shares, describing the diversity of challenges regarding capacity and resources they face and intensified during the pandemic. "However, as women, we cannot just sit back," she says. 90 % of the organization's budget depends on International Cooperation, while they often struggle for the most basic resources and depend on private donations. Within the shelter, the women actively participate in food preparation and have access to educational training on a variety of topics including human rights, strategies to break the cycles of violence and occupational workshops. They also have access to legal and psychological sessions. The children, meanwhile, continue their studies thanks to the team of teachers, and have access to psychological therapy and recreational activities.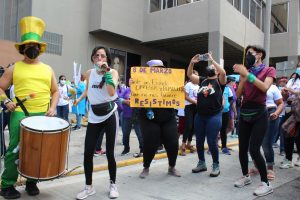 Guided by her values, Cruz's work is not only focused on running the shelters, but also on defending the rights of women and girls. Cruz diversifies her talents and is not afraid to join protests in the streets, as well as to present solutions in front of Justice Operators. Her most recent work includes the presentation of the Shelter Homes Law, which was not approved by the National Congress and her participation against the abolition of any constitutional regression that criminalizes abortion. "US, the women's movements have never held back from having that hope that eventually governments will react," says Cruz, regarding the hope that motivates her to continue fighting to advance in the protection of human rights.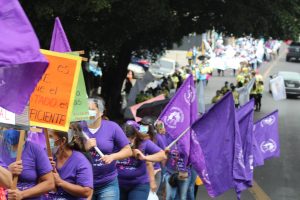 Her work describes the potential of sorority and demonstrates the importance and active role of civil society. Like her, many women represent the feminist movement in Honduras, such as Movimiento de Mujeres por la Paz Visitación Padilla, Centro de Derechos de Mujeres (CDM), CEM-H, among others, that contribute to transform this social movement into political representation. They, without knowing us, fight for all of us and it is thanks to their voice that today we enjoy a myriad of rights and information. Their work, today, more than ever, allows us to be part of the change and transform society for a more female future.