"What encourages me to continue advocacy is an intergenerational dialogue where everyone across all generations learn, understand, and stimulate each other. It enables me to recognize that we young women have the potential to transform society. Without the dialogue, an inclusive society can never come true."

Nanako Tojo, Japan. 
Just like every year, this year too, World YWCA movement observed the "Week Without Violence": an annual global campaign being hosted since last 25 years to raise awareness, promote change and enable positive action towards ending violence against women, young women, girls and other marginalised genders. 
The YWCA #WeekWithoutViolence occurs every year on the third week of October to encourage communities to think and act towards a world without violence. This year, the movement came together under the theme "Intergenerational action for Gender-Based Violence (GBV): Co-Creating the future", coming together to hold events, host online campaigns and advocate actively to end the scourge of violence against women, young women and girls. 
As part of the 2021 campaign, the World YWCA launched an interactive co-created toolkit for #YWCALeaders and other activists to access data, find ideas and take action to make the world a safer place for women, young women, girls and other marginalised genders. This year, the participation in the campaign was even more diverse, with many partners and supporters engaging and sharing their support on social media.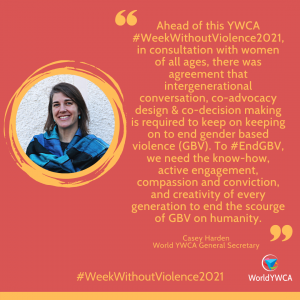 The week started with a powerful message from our General Secretary Casey Harden, who highlighted the importance of intergenerational actions to end GBV. Across the days, social media polls were conducted on Instagram, eliciting awareness levels and sharing information on how to best support GBV survivors and address the multiple forms of violence witnessed in everyday life. 
YWCA leaders took on the forefront on World YWCA's social media to share their thoughts, opinions and solutions. Maureen Wesonga and Runyararo Tembani took over World YWCA's Facebook account to share their story. The editable templates in the toolkit were used by women of different ages, backgrounds, nationalities and languages to share their voice and solutions on how to tackle GBV, engaging in the campaign using the hashtag #WeekWithoutViolence2021. Many men joined the cause and shared their opinions and showcased what allies can do for ending violence against women and girls. 
---
National and local YWCAs and partners around the world personalized the campaign and actively engaged in variety of ways. YWCA Nigeria and YWCA Halifax, used the templates to share tips on how to support survivors of gender-based violence, numbers to contact if you are in danger or call for donations to support their work. YWCA Thailand and Greece adapted the posts to share evidence from their country and call to action in local language.  The global faces of women and young women helped bring a more personalized face to the social media campaign, highlighting the voices of leaders directly. 
YWCA Philippines planned one themed Facebook live every day of the campaign which was very inspirational. 
The YWCA of the Democratic Republic of Congo has even hosted activities via WhatsApp, with women of different ages posting pictures, messages concerning the campaign and raising awareness on gender-based violence. Creating a Whatsapp group was very useful to reach women in rural areas who might not have access to engage online. With the WhatsApp group, they could participate in the campaign virtually, share information and powerful messages against gender-based violence.
We are inspired by all who came together from all regions of the world including, India, Bangladesh, Belgium, Burkina Faso, Canberra, Fiji, Kenya, Myanmar, Nigeria, Nepal, Papua New Guinea, Philippines, Thailand, Sri Lanka, Togo and many more to actively engage on social media and host events offline as well. Check #WeekWithoutViolence2021 to see all the great posts published by YWCA's all around the world.
It was also encouraging to note many partners and activists share about the campaign and promote the use of the toolkit such as Accountable Now, Faith to Action Network, Global Youth Mobilization, Atlas Alliance, Youths Energy, Young Feminist Europe.
Check out this powerful video by the World YWCA Leadership Cohort 2021 reflecting on the current realities of gender-based violence, sharing unique perspective on GBV from their regions. 
We saw the real power of data and intergenerational action in raising awareness towards GBV. Concluding with hundreds of posts under the hashtags of the campaign, the week concluded with asking people to tag other intergenerational leaders that inspire them.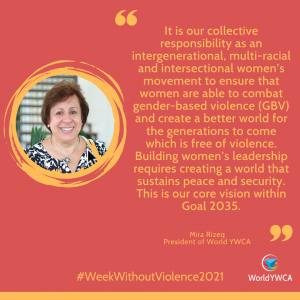 World YWCA President Mira Rizeq, called for "our collective responsibility as an intergenerational, multi-racial and intersectional women's movement to ensure that women are able to combat gender-based violence (GBV) and create a better world for the generations to come which is free of violence."
With more than 700 downloads of the toolkit, the campaign received high engagement on social media, reaching more than 11Million on Twitter and 57K on Instagram. 
While the future of our movement hinges on the development of young women leaders, it also depends on the engagement, know-how, and participation of women leaders from all generations. With intergenerational action that fuels investment in young women leaders, the power of all generations is critical to carry on as a global movement which continues to fight for a world free from violence of any form. 
Continue the advocacy. Access and share our toolkit full of recent data and suggested actions  on the theme.
To help us continue this work, we need you to continue investing in the power of women and young women leaders. If you believe in this cause, donate to World YWCA and help us reach more inspiring women, actively mobilizing and supporting them to lead action on ground.