What happened in Beirut?
On the evening of August 4, a massive explosion rocked the port of Beirut, resulting in widespread damage throughout the city. The horrifying nightmare resulted from a cataclysmic explosion of 2750 tons of chemicals at the Beirut Port, estimated at the equivalent of a 4.5 earthquake. It precipitated at least 250 deaths, 100s missing, 6000 injured, more than 300,000 homeless, and 15-25 billion US $ in property damage! The Beirut Blast came at a difficult time for Lebanon, which is not only when we are trying to curb the spread of the Coronavirus, but also during an unprecedented economic collapse. This crisis was so severe that it has already triggered hyperinflation and hunger among the Lebanese population. Before the August 4 explosion, 75% of Lebanese citizens needed aid, 33% had lost their jobs, and one million were already living below the poverty line. There was significant damage to the National YWCA and Beirut YWCA offices and communities, and this has been just part of the challenges faced by YWCAs in the country.
In Lebanon however, where the Regional Political Turnover is a constant rather than a variable, we have lived by contingency plans for over four decades now. After fifteen years of a foreign-induced internal conflict , and another fifteen years to rebuild and slowly regain our economic and touristic position in the Arab World, Israel waged an open war on Lebanon in 2006, imposing an eight week maritime and air siege that targeted the entire population.
---
In less than a week, years of progress were virtually wiped out as Israeli systematic bombing raids from land, sea and air destroyed bridges, roads, airports, sea-ports, fuel depots, food production factories, electric power and cell phone relay stations. More critically, over one million civilians were displaced and thousands killed or injured under the rubble of demolished buildings and shelters.
While the reconstruction process is now in full swing, and citizens are striving to rebuild their homes and businesses in the devastated areas, we face an unprecedented financial and economic crisis. This is further exacerbated by an 80% devaluation of our local currency since last fall. All this, while hosting a large number of Syrian and Palestinian refugees, deepening the crisis for both the Lebanese government and the refugee communities.
Throughout, the Lebanese civilians have rallied by working fast and across all barriers, to address emergency tasks in search of the injured and homeless, while attending to their survival, medical and psychological needs. They formed a human bridge to remove debris, as they provided food, water and other essentials to citizens stranded in their homes. Similarly, our eight YWCA associations across the country are involved in emergency aid where it is needed, while looking forward to activating new programmes and strengthening previous ones to serve their communities.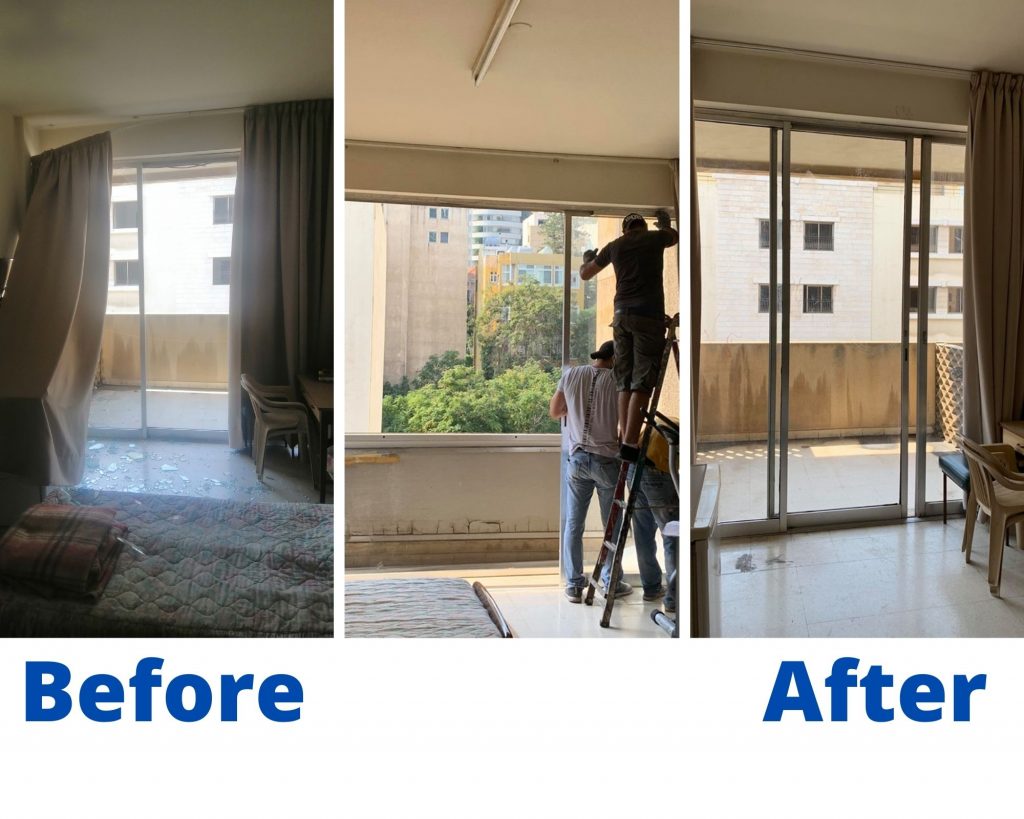 The Assisted Living Facility of the National YWCA and the Hostel Facility at Beirut YWCA that provide safe residence for over 80 students and working girls were severely damaged with bombed out doors and multiple frames of broken glass. Fortunately, physical injuries were minimal as only a few girls needed emergency care. The hostel serves as a safe and low-cost haven for young women from conservative communities, who come from remote Lebanese villages to follow academic and employment options in the city.
How is the YWCA responding?
YWCAs in Lebanon responded to the immediate needs of the communities through the caring concern and support of our friends around the world. This has boosted hope in the revival of our programmes for peace and national stability. We express our deep and sincere gratitude.
Immediate need has been to undertake urgent repairs of the National and Beirut premises, also for fuel to provide generated electricity in order to maintain basic services for the school and hostel in view of long electricity cuts, especially looking towards assisting the displaced families in our neighborhoods with medicine, food and relocation expenses. The long term needs around development of the communities are key to keep the development work going. This means rebuilding structures of employment driven training of displaced young women and women, addressing the needs of displaced mothers, accommodating the children at various YWCAs day care centers free of charge, is forms of support to larger communities. There is a need to drive vocational scholarships and subsidies for children at our day care centers, so their mothers can find paid work.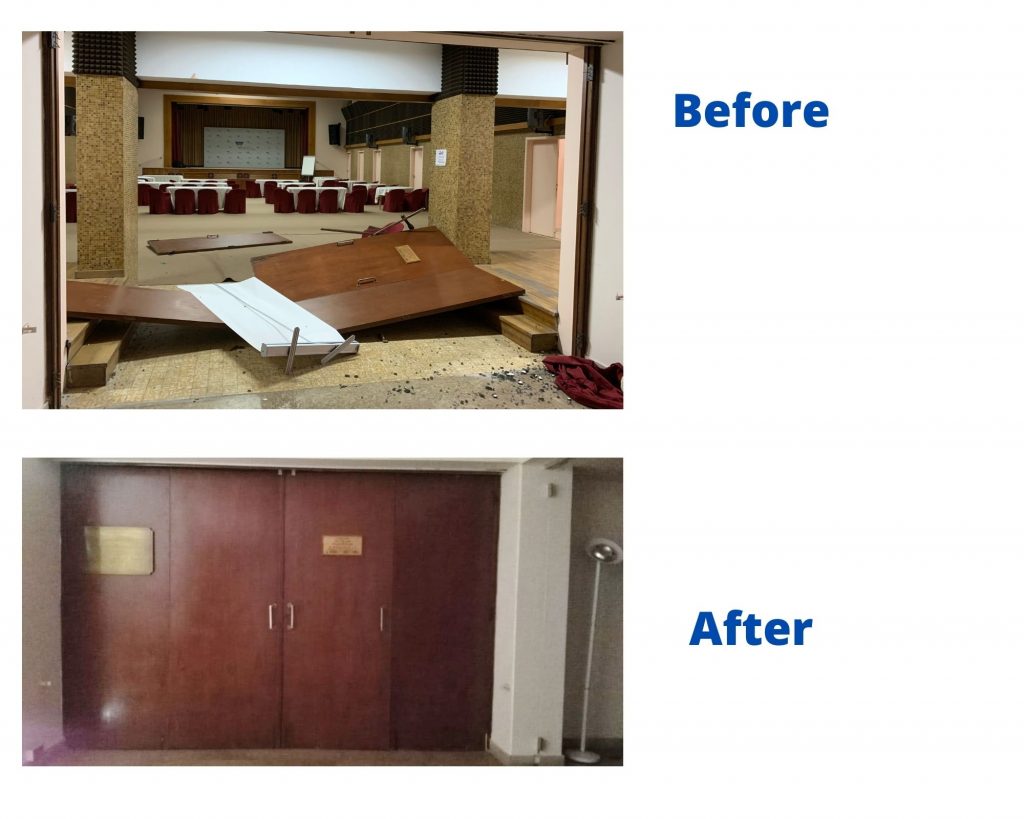 The National YWCA office is coordinating and organizing the distribution of immediate aid throughout the emergency period, by maintaining contact with its outlying centers to monitor the needs and ensure that assistance was adequate and prompt. Financial aid is provided in support of specific programmes, and for repairs of damages precipitated by the carnage at YWCA headquarters. All the associations are involved in direct assistance within their communities, at Beirut, Chiyah, Hadath, Jbeil, Tripoli, Marjeyoun and Ablah. Emergency funds received by National will enable three associations to provide scholarship assistance toVocational trainees, and for children at three Day Care centers. In addition, a number of vocational students will receive training subsidies from the Ministry of Social Affairs, according to their age and economic status.
What are the long term concerns?
The long-term development will start with the delayed November school year, as soon as severed communications are patched up. YWCA volunteer members and staff will continue to offer their services, notwithstanding personal and financial difficulties.
As poverty deepens with Lebanon's worsening economic and security crisis, the long-term resilience of the country's vulnerable community is eroding as individuals struggle to generate income. While employment driven training of women and young women to overcome immediate losses is critical, we need to actively advocate for peace and justice in the region, especially in light of the challenges related to the unprecedented economic collapse. Advocacy towards right to education, quality childcare, especially in disadvantaged communities is critical.
How can you support?
As the explosion happened, World YWCA monitored the situation and issued a statement of solidarity sharing details from the country. Donations to support the YWCAs have played a critical role in initiating the work on ground. But a lot still remains to be done. The National YWCA office is available throughout this period of emergency, to receive and disseminate information, and to ensure an immediate response to the needs that are reported by the local associations. This is done in coordination with The National Executive Committee. Advocate and support for the cause in Lebanon.
Contact worldoffice@worldywca.org if you want to make a donation to the YWCA of Lebanon.
---
Blog submitted by YWCA Lebanon to the World YWCA