Trigger warning: discussions of sexual and gender-based violence
For Geneva Peace Week 2020, World YWCA and Norwegian Church Aid got together to amplify young women's voices – quite literally! Over the course of two podcasts hosted by Chhavi Sachdev, we listen to four women from different corners of the globe as they discuss the myriad issues that young women such as themselves face in their communities – from civil war and conflict, to intimate partner violence and rape, to more inspiring stories of building cross-border connections and forming solidarities to organise for change.
Our first podcast centres the role that women can play in peace-building and development. It begins citing a powerful statement from the Women, Peace and Security Index –
"The world is more secure, peaceful, and prosperous when women are accorded full and equal rights and opportunities".
Over the course of the podcast, we are reminded of the truth of this statement as young women describe their uphill battles to enact change in their individual contexts.
The four women that speak on this podcast come from very different situations. However, they are bound by the common thread of conflict and patriarchy that impacts all their lives.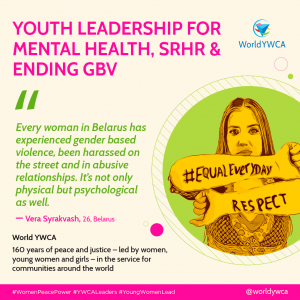 Vera Syrakvash talks about attending the massive protests in Minsk, Belarus against authoritarian President Aleksandr Lukashenko, who has been in office since 1994, where some women were severely beaten and even raped. Amany describes living in the occupied conflict region of West Bank, Palestine. "I'm living literally in an open-air prison," she says. Mary Fatya of South Sudan grew up amidst a civil war, where sexual violence was rampant. And finally, Maria Osula, who leads the Eastern Africa Peace Program by Norwegian Church Aid in Kenya, speaks of her work that takes her to conflict regions where she tries to negotiate peace.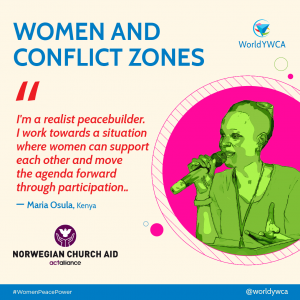 Sexual and gender-based violence is a common strategy employed by war, says Maria. The patriarchal conditioning that equates the honour of a society in the 'purity' of its women means that rape and sexual violence is viewed as a tool to inflict harm on a society as a whole. Living in conflict zones can be hugely traumatic to women, affecting their mental, physical, sexual and reproductive health.
When violence is not inflicted on women by uniformed men, it is inflicted by men within the community. Amany from Palestine says,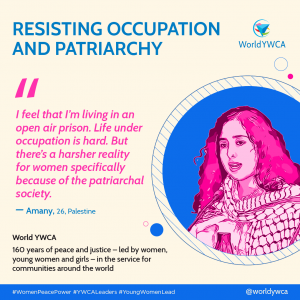 "It's not just that we're facing occupation, here as women, we're also facing a patriarchal society…men feel that they're entitled to hit their wives if they don't listen to them, or restrict their freedom."
In these conditions, these young women emphasise how important it is for women to be involved in peace processes and development to bring forward a peace that encompasses not just an end to conflict, but an end to sexual and gender based violence faced by women as well. Vera from Belarus asks,
"For now, women mostly take in former roles in conflict resolution. They do invisible service work, they do care for victims, they are the supporting infrastructure. And it is a good question. Would it be the same if women were equally involved in the processes of decision making? Perhaps it would be different."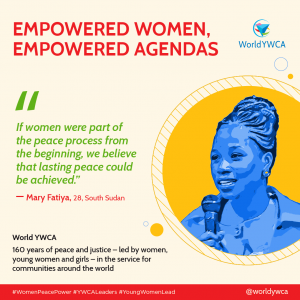 Mary from South Sudan has been involved in campaigning for a greater role for women in political representation and conflict resolution, and proudly shares a win for women in Addis Ababa, where the minimum proportion of women in peace processes was increased from 25% to 35%. According to UN data from 2015, when women are involved in the peace building process, there is a 35% increase in the probability that the agreement will last at least 15 years.
Our second podcast takes us from the disproportionate harms that women face in conflict spaces, to how young women in YWCA are organising for change using the tools of a digital age – social media.
When women are involved, outcomes change. Including women in policy making is a work in progress, says Maria from Kenya. But how do we engage more women and youth in policy work? Digital media has emerged as an accessible and impactful way to reach out to newer generations of activists, empowering them with the information and networks needed to enact change.
"People want to get the information as fast as possible," says Amany, who manages the Media & Communications at YWCA Palestine. "We're not talking about all people, like old men sitting and drinking coffee, reading the newspaper. Now, our audience is young people, who are on their social media all the time. That's why we are focussing more on social media."
During COVID, as the entire world transitioned to a more digital way of living, social media became an even more important tool for activism. Vera from Belarus says that it even made organising events easier! Last year, she helped organise a sexuality education festival online, where the medium allowed much greater access for young people, and much easier control to block out potential trolls and hostility, ensuring the event remained a safe space for people to share and connect.
Safe spaces, as a concept, is one championed by the World YWCA. One of the key features of gender-based violence is the culture of silence that it promotes. Survivors of violence are often discouraged from speaking out about it due to the stigma that it carries. Mary Fatiya, from South Sudan, has created a platform around this very issue, called 'Let Girls Talk', that brings together survivors to share their experiences and heal collectively. Safe spaces allow survivors the space to speak without the fear of judgment – something that can be incredibly freeing.
However, using social media for activism must take into account its inherent challenges as well. First, the digital divide means that many countries do not yet have accessible internet yet, and as with all other things, this too is gendered, with more men having access to the internet in two out of three countries.
Further, women that do use the internet for activism are at much greater risk of violence, threats, abuse and intimidation. In Belarus, Vera says that many activists have even been prosecuted and criminalised for speaking out against State authority. This can lead to self-censorship to avoid online backlash. But as women activists all over the globe have done for decades, they continue to use every medium possible to continue the fight against patriarchy.

"It's hard not to get that backlash – no matter how hard you try, you'll always get people who disagree with you. I think the best way here is just to ignore their comments and just spread the word," says Amany.
By networking, organising and acting for peace & justice, these young women are leading the fight against gender-based violence. Peace and justice form a very core part of the work at World YWCA and Norwegian Church Aid. These podcasts reflect the strength, resilience and compassion that these young women carry as they mobilise for change, and serve as an inspiring reminder of the impact that investing in and empowering young women can create in society.
For 160 years the YWCA has been a touchstone for leaders to do challenging work on the ground, in communities- impacting the lives of so many. We need your support to continue with this work.